Your FilmConvert license allows you to activate the software on up to 3 machines at one time. If you need to free up a license slot to activate the software on another computer, follow the instructions below.
How to deactivate the Standalone software license
You can deactivate the FilmConvert Standalone software right within the program itself.
On Windows, click Help > Clear Registration Details: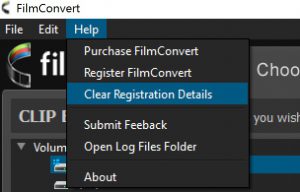 On Mac, click Film Convert 64bit > Clear Registration Details: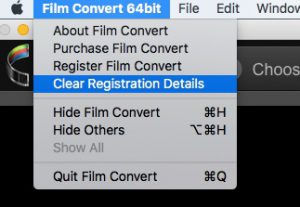 Deactivate a plugin license (Premiere, FCPX, Resolve, etc)
To release a FilmConvert plugin license that has already been activated, you will need to run our Deregister app.
The Deregister apps for our plugins can be downloaded here or found in the following locations on your computer:
OS X: /Library/Application Support/RubberMonkey/DeregisterApp.app
Windows: C:\ProgramData\RubberMonkey\DeregisterApp.exe
While deactivation will normally be automatic, there are times when this will not happen automatically. If your license does not free up within 30 minutes then please email customer support so we can process this manually for you. This process can take up to 48 hours to complete.
Using Mac OSX Migration Assistant
For Mac OSX users who have migrated a machine using the Mac OSX Migration Assistant, you will need to run the Deregister app on your new machine as well.
This won't affect your license but will clear out any files that were copied by the migration assistant that will interfere with the activation process.