Cassius Rayner is a filmmaker, cinematographer, lecturer and explorer. His recent short film Dead Eye, a contemporary drama/thriller, was shot on the iPhone 12 using FiLMiC Pro, and graded with FilmConvert.
Tell us about your film – how did it come about?
Dead Eye came about for two reasons, firstly because I felt ready to direct another film and wanted to shoot something that tapped into an aspect of issues in society that I was aware of. I guess I call myself a kitchen sink drama director with a bit of thriller/suspense thrown in.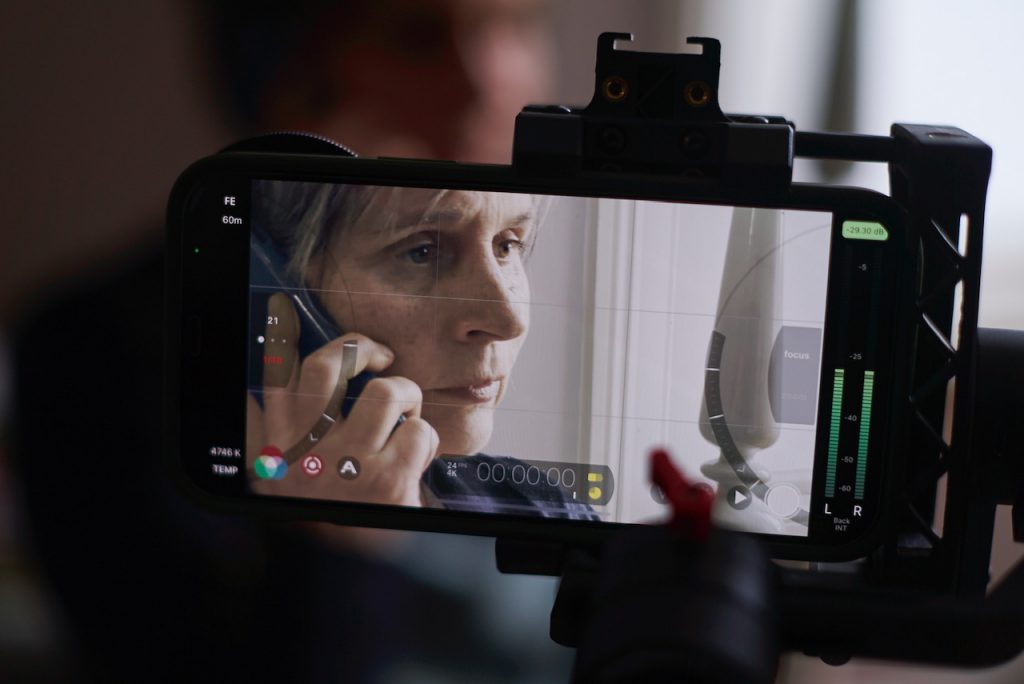 Secondly, Apple launched the iPhone 12 Pro Max with 10-bit capability and FiLMiC Pro did an update on the app that also shoots 10-bit Log capture – so it felt to me to be the right time to really push the phone an the app to the limits and see what it could do – it's still early days with 10-bit on a mobile and I really wanted to experience it first hand.
Give us a bit of detail about yourself – background, profession, how you got into filmmaking and your current role
I started as a runner in post production, then a set builder and painter for music videos and then I took an apprenticeship in camera training.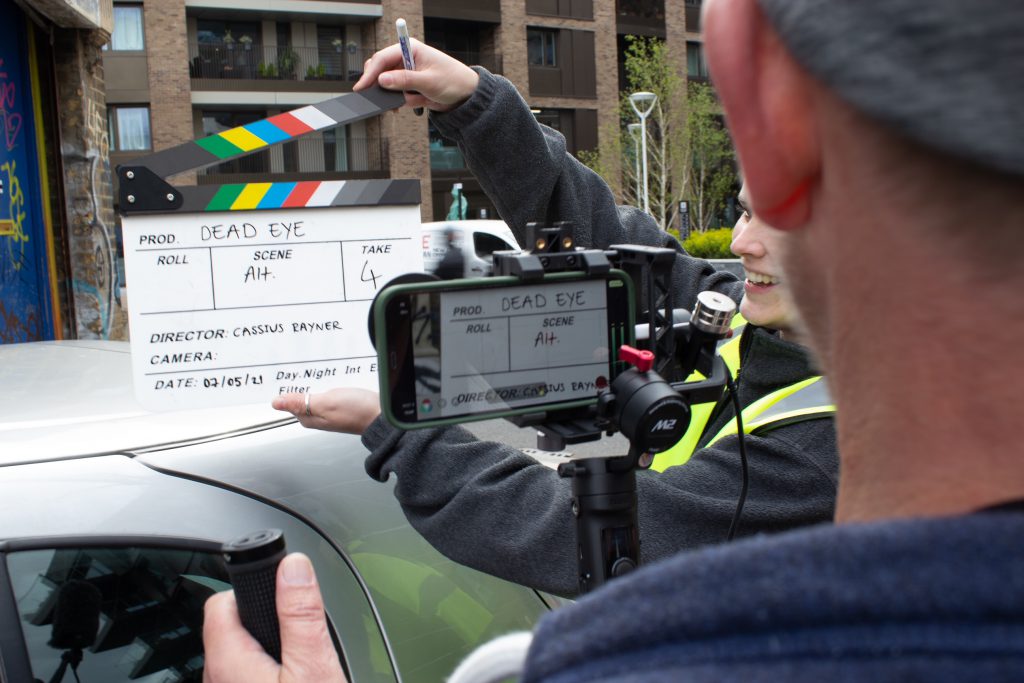 In 1997 I was very fortunate to win Best Independent Film for JUNK which starred Adam Ant (80's pop idol ). The film got shown at different festivals in Europe.
My passion has always been to direct but for many years I was probably too scared to set into that world. In 2000 I was stabbed by two youths and nearly died on the street – spent over a year recovering and lost my confidence in filmmaker and so for a few years I drifted in and out of various jobs which had nothing to do with film.
In 2005 I got a commission from a digital channel working with SKY TV and they said that because I had shot a lot with cameras it would be easy for me to direct and shoot the feature documentary for them – it was more likely to do with the small budget, but I took the opportunity. I ended up shooting and directing a story on one of the USA's female poker players Jennifer Harman. Telling her story on how she went from being a truck driver to a multi millionaire poker player in Las Vegas – titled 'Jennifer Harman Poker Queen'.
In 2014 for personal reasons I discovered an app FiLMiC Pro and became fascinated with what could be captured on a phone and I could really see a future in it. Since 2014 I haven't shot anything with a mainstream camera and shoot everything using mobile phones – I'm presently a filmmaker but people know me as a mobile filmmaker.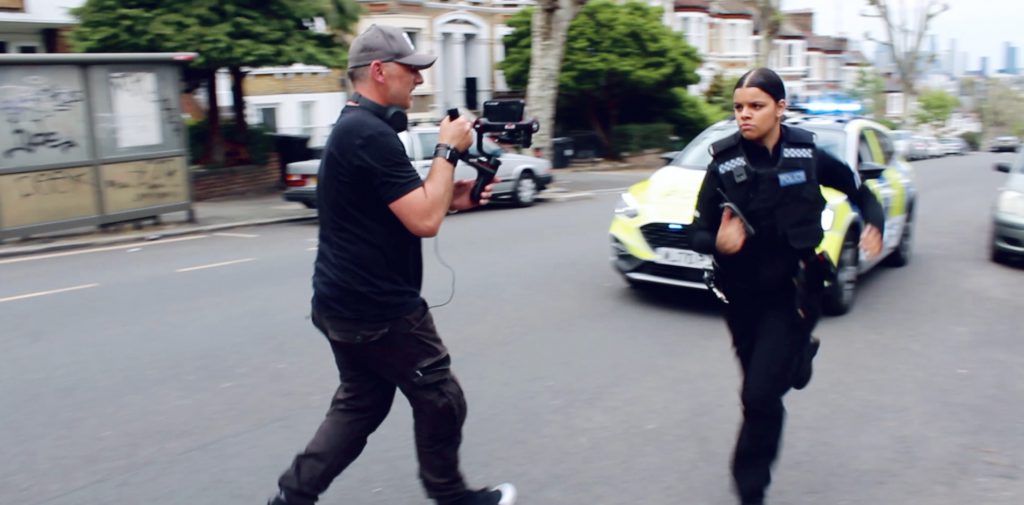 How did you find out about FilmConvert?
I was aware of FilmConvert and had seen some other filmmakers using it, but to be honest – colour grading to me is a whole other world and really only know the basics as it's not my expertise, but once I saw the interface of the software I thought that it was something I could grasp and understand.
Why did you decide to use FilmConvert for this particular project?
Shooting in 10-bit Log capture meant I really needed to look very seriously at the post-production work flow, budget and what could be achieved. As a camera operator I knew what my colour palette should be for the film, but it was having to really look at what options were available with colour grading and the budget wasn't in a position to pay for a professional colour grader.
So the opportunity arose for me to download the software and so I decided to do some test shots with my lead actor and then play with the software in editing. Once I got used to the film simulations and how well the FiLMiC Pro footage appeared I was like – wow this is a marriage made for each other – shoot FiLMiC Pro and colour grade FilmConvert.
What was the particular look or style you were going for with your film?
I guess the colour range was to be fairly stark, de-saturated, greys, blues giving a cold bleak feel to the film. Jay (leading character) was to be very pale in complexion, and to match the feel of the film I made sure that wardrobes matched this, with very washed out plain and dark clothing.
I wanted grain in the image which worked really well adjusting the levels in FilmConvert – mobile video is very sharp by nature and I guess for me coming from a 16mm/35mm background I wanted to soften that hard edge in post production.
Tell us about your workflow. What settings, film stock, camera profiles and tweaks did you use in FilmConvert?
I shot all the footage using an iPhone 12 pro max with FiLMiC Pro 10-bit Log capture and used a grey and white card at the beginning of each location shoot.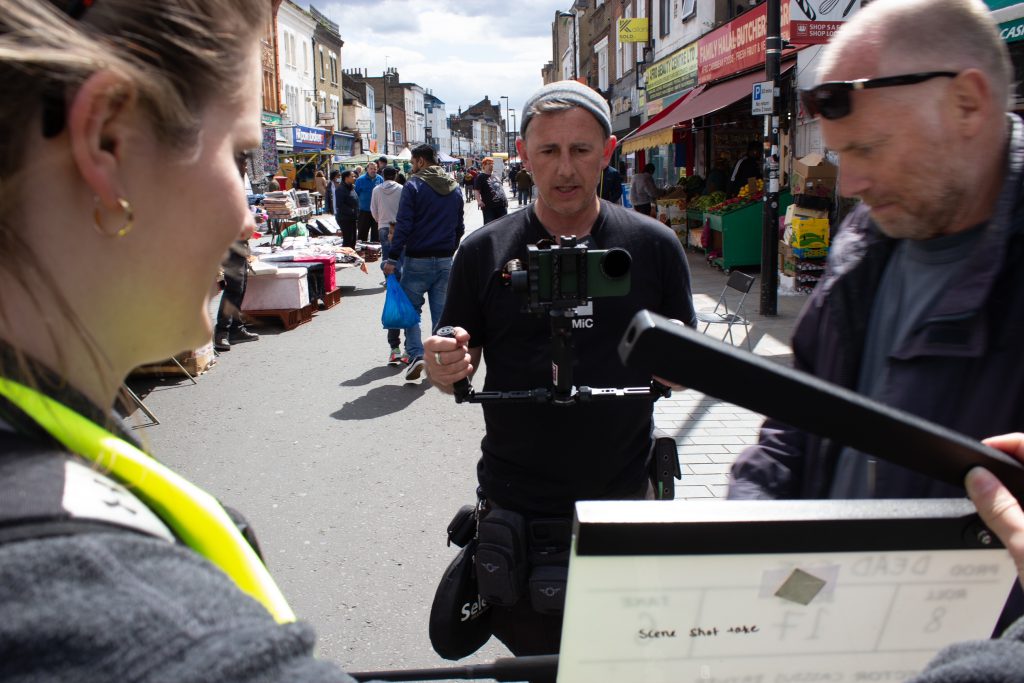 I edited in FCPX and cut a rough edit of the whole film before looking at colour grading. Then I copied an exterior scene and 1 interior scene and created a new time line so that I could delve into FilmConvert and explore the parameters.
I chose an exterior so that I could see under natural day light what tones, colour worked and for the interiors I needed to also add a colour wheel in addition to film convert because all the interiors were under lighting set ups. I used the Kodak film stock, grain set at 10 and grain saturation at 10.
What other effects or tweaking did you use?
I use desaturated the footage using a colour wheel in FCPX. that was pretty much it.