"My team and I really wanted to sell the retro style as much as we could while still using the strengths of a digital workflow. We were able to focus on getting clean images in-camera, then used FilmConvert in post to add in that throwback look!"
Shot on the RED Epic-Dragon with Dog Schidt Optiks lenses.
Brendan Leahy – The Interview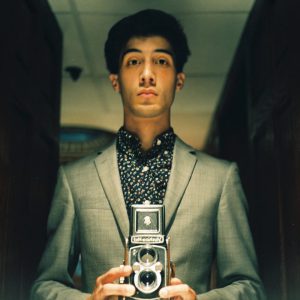 When I first heard "I Found You", I immediately felt all sorts of '80s vibes. Gibbz and I then pulled together shots we loved from "Take On Me", "King of Wishful Thinking" (early '90s), "Time After Time", and various music videos by Hall & Oates and The Outfield to create a pitch we both loved.
My team and I dug into how the music videos were shot back then with regards to camera movement, lighting, practical effects, and choice film stocks. We also picked TRUMP lenses by Richard Gale Optics because the base glass is from the late '60s/early '70s for a nice vintage look. All of these things were paired with great set design, wardrobe, styling, and a fantastic actress to create that '80s look.
I went into DePaul University's digital cinema program here in Chicago, and after graduation, started a small production company called Studio Skylight. It's a way my friends and I can still come together and choose fun projects to collaborate on.
I first learned about FilmConvert through an article on NoFilmSchool a few years ago. I was looking to add a little extra kick to concert and festival footage. A lot of the musicians I work with have sounds, appearances, and even logos that honor and call to mind artists from previous decades, so discovering this amazing emulated film stock felt like a great match.
At this time, I'm *trying* to dive a bit more into directing, but have always loved camera work. I used to mess around with my dad's VHS camera as a kid, and as I got older, started making short films with friends while improving myself through concert and sports photography.