Francisco Campos-Lopez is an award-winning filmmaker and writer.  He knew he wanted to create films since he was a child watching Indiana Jones.
Francisco Campos-Lopez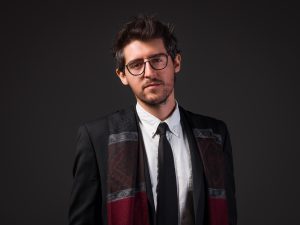 As Francisco developed his talent, he infused his work with his rebellious nature. Breaking away from the norm, and forming his own dream team of rebels, he began creating his first films in Buenos Aires.
He wrote and directed the film Acassis, which was played worldwide. Acassis received Best Thriller Award at the New York International Independent Film Festival, launching his international career. Having already won several American awards, Francisco moved to the US in 2009 on a 0-1 Visa, for his extraordinary ability in arts.
His passion for filmmaking extends to his environmental efforts as well. Fiercely dedicated to protecting lands in both Patagonia and the Amazon, Francisco has been deeply involved in efforts to document the beauty of these places and the importance of their preservation. With his filming equipment in tow, he braved harsh wilderness and even risked his life in exposing the crimes and damage that threaten these territories.
It was this self-exploration and spiritual connection to the land that led to the development of his most recent film, I Did Her Wrong. As a father, he embraced the concept of fears and loss – knowing that the painful entanglement in I Did her Wrong is precisely every parent's worst fear led Francisco to the discovery that fear and loss are powerful and significant concepts in our lives. They are legitimate feelings and realities that should not be shunned or denied – they should be discovered and embraced, and they cause us as human beings to ask important and worthy questions.
Why did you decide to use FilmConvert for this particular project?
My cinematographer buddy and I shot a sample with an old Arri 2C 35mm and some Kodak 5207 250D Film Stock. I fell in-love with the look of that film stock and it was exactly what I was looking for the final touch of my movie. The story needed that look.
What was the particular look or style you were going for with your video?
I wanted to emulate something very close to the Kodak 5207 250D Film Stock, which has a finer grain and great vivid greens. My movie – shot in rural Virginia- had a lot of green so it was simply perfect.
Tell us about your workflow. What settings, film stock, camera profiles and tweaks did you use in FilmConvert?
The movie was shot with a couple of Canon 5D's with Zeiss and Canon L lenses for the big majority of the scenes. The camera profile I used was the standard for the Canon 5D Mk III. It gave me a better neutral look than the one that I actually shot the movie.  I used the Kodak 5207 Vision 3 present as my baseline and kept the grain fluctuating between 30% in night scenes and 50% in outdoor scenes.
What other effects or tweaking did you use?
I did the color correcting with LUMETRI, used FC only for the final touch scene by scene, shot by shot.