Glenn Maguire from SparkleVFX shares how FilmConvert helped them soften the harsh look of the CGI promo for Liverpool World Museum.
I wanted to have a far more natural and film tone about it. Film Convert did the job perfectly, with the colour, grain and speed of use. We tend to use it on almost everything now.
Give us a bit of detail about yourself – background, profession, how you got into filmmaking and your current role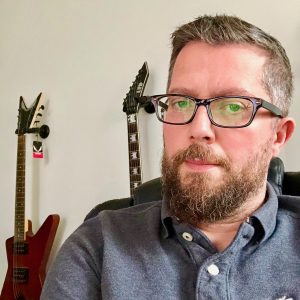 I'm currently Creative Director at sparkle* (www.sparklevfx.com) and have been for 13 years. We're about to open a second studio called People & Pixels, where I'll be one of the collaborative group of Directors from varying backgrounds, live action, design, CG animation etc. My background is in composting and live action, I started out many years ago using film cameras, the progression to digital, then composting came very naturally. ( 5 years freelancing before sparkle).
Over the past 7 or 8 years, the move into CGI also was very natural as rendering is very much like developing film stock and film paper, the darkroom is now on your computer with a whole host of new variables. I found my grounding in cameras has helped me through my entire career. I'm still very much in contact with cameras and direct and shoot most of the content at sparkle, still very hands on around the camera, inspired by people like Roger Deakins who still pick up the camera on set. Anyone can direct, we're all direct but not everyone knows workflow. I've only given myself the title of creative director over the past 3- 5 years as I feel I've finally achieved the position, I've always been very aware its easy to give yourself a title without having any experience in the area.
These days I'm a confident director as I think I've finally earned it, which started the new development of the new business. I think my utter love for cameras has developed my career, I understand light, colour, and composition. This goes on to help in the CG world as many folks forget the camera within the CG environment is the same as real-world camera, it has lenses and film backs and now with the help of FilmConvert we can achieve the look of film within our CG.
Tell us about your film – how did it come about?
Liverpool World Museum approached us to help develop the creative for the Terracotta Army coming to Liverpool in 2018. It was a big ask as they had part of their creative fixed in their heads and our job as 'creatives' was to work out how we do it, not just how we make it look pretty but using our years of knowledge to produce this small sting within 4 weeks.  R&D happened very fast and FilmConvert was always at the front of my mind.
How did you find out about FilmConvert?
I saw a great film on Vimeo, then was blown away by reading the description to find out it was a plugin.. it looked so natural. It was an instant purchase after that. Its always in my mind when creating CG or filming … I know I've got room to create the look I need. I'm not into the school of.. 'Lets make it look like film' .. I'm in the thinking what makes it look like film is the way you execute your shots, not how you colour it. FilmConvert adds such a subtle hint rather than an aggressive colour.. you only notice its when it's not there.
Why did you decide to use FilmConvert for this particular project?
I think about post-production before we start production. I knew the CG renders straight out of the box would look to harsh. We wanted it to look as natural as possible. As soon as we applied FilmConvert within FCPX it all just fell into place straight away. Colours were toned down and the grain helped with all the digital anti-aliasing.
What was the particular look or style you were going for with your video?
We just wanted a more natural look, CG renders are very harsh… we had dropped a lot of setting to get the renders out in time, we have a decent render farm but we still struggled due to the nature of the fluid simulations. FilmConvert help tine down the CG feel to the overall piece. The smoke effects that came out of the render were always too soft, we were never happy with them. FilmConvert really helped further develop the aspects of the smoke, give them more depth. As you can see from the straight render, a little colour correction and a simple touch of FilmConvert really took it the next level. The workflow ultimately stayed very simple and very fast.
Tell us about your workflow. What settings, film stock, camera profiles, and tweaks did you use in FilmConvert?
We rendered out .exr from C4D, everything was then comped within After Effects. We then tool out Prores 4444 render into FCPX. Minor colour correction, I'm quite the purist on plugins.. use is one of the only ones I use. I believe if you're going to shoot or render.. get it 85% correct in the camera/render… post-production shouldn't be a save point, it should be the final 15% of creativity.
SOURCE CAMERA. Blackmagic Design BMCC 4k FILM.
What other effects or tweaking did you use?
There were no further tweaks apart from what we mentioned above.. FilmConvert really added that final 15%.