Dan Newman – The Interview
Give us a bit of detail about yourself – background, profession, how you got into filmmaking and your current role?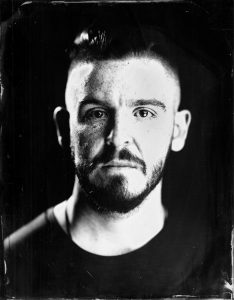 My name is Dan. I am a storyteller. I am a coffee lover. I am a college dropout.
I am a three-time Emmy award-winning freelance director of photography and editor based out of St. Petersburg, Florida. I've been in this field for the last 7 years, but truly freelance for the last year. My work has given me the opportunity to work in various parts of the country and around the world to capture and share peoples stories.
I pushed myself out into the freelance world after realizing there was something I could offer to people and clients that wasn't very common in this practice, that is shooting and editing videos in an extremely fast paced manner without jeopardizing on quantity or quality. Producing, shooting, editing and releasing individually unique videos within a 24-hour window.
Tell us about your film – how did it come about?
I was contacted via word of mouth and recommendation to a boxing promotion company based out of the UK, Matchroom Boxing. One of their fighters, Daniel Jacobs, is based here in the States and they needed some promotional coverage leading up to the big fight on November 11th.
Matchroom flew me up to New York to capture one of his training sessions. We happened to capture a strength and conditioning workout, so no gloves were in sight. This was a problem-solving moment for me, so I simply asked Danny if we could shoot some shadow boxing with him alone in the ring – just to show some action. He happened to have another session the following day, which I wasn't originally planning on being around for. Just to get those shots with his gloves on and in a different environment, I stuck around New York for another day.
FilmConvert was essential for the look and feel of this one.
Following that shoot and the numerous videos I put together for Matchroom (6 in all), they invited me up to New York again for coverage leading up to the fight during fight week. During my 3 days of work in New York, I produced a total of 30 different videos, ranging from promotional highlight videos to Instagram stories.
How did you find out about FilmConvert?
I first heard of FilmConvert through some google searches where I was trying to figure out a unique way to add film emulations to my video content. I wanted to have something unique and visually different than the standard grade straight out of camera.
Why did you decide to use FilmConvert for this particular project?
I swear by it. FilmConvert is something I use for every single project and if you look at all of my projects over the last year, it's simply an extension of my style and look.
What was the particular look or style you were going for with your video?
For this video that we're highlighting, I needed to have a clean professional yet gritty New York style presentation. The added grain and grade applied to the CLog Profile off of the Canon C100 mark II was essential to make it pop. With these live events, featuring world renown athletes and celebrities – I try to focus on the skin tones and making sure they look as true an unexaggerated as possible, then tweak from there to add a little personal flavor.
Tell us about your workflow. What settings, film stock, camera profiles and tweaks did you use in FilmConvert?
I shot this video between 11:00am and 2:00pm. I took a cab to a coffee shop and sat down by 3:00pm. Edited and Posted to the Clients account by 6:00pm.
I unloaded all of my footage onto a working drive. While unloading footage onto the drive, I began setting up my sequence and outline within Adobe Premiere.
As footage was being imported, I started framing the establishing shots to get us started – aimed for a 3-5 shot New York City sequence to kick us off. Once I had the establishers, I started dissecting the narrative. We wanted to tell a story and create hype behind the fight so it was vital that we heard from both the fighters as well as the promoter.
With that in mind, I also wanted to make sure we had a wide variety of shots without a repeat use of our static wide room shot, so b-roll and pick-up shots were essential.
Once I had the narrative and b-roll in place I started to apply FilmConvert to the best shots to establish a grade to base everything else off of.
I adjust accordingly depending on the exposure, clip to clip. I used the KD P400 Ptra film emulation at a 35mm Full Frame size and applied that to the Canon C100 MkII Wide DR Camera Profile. After everything is applied and each shot is modified individually, I review my sequence 2-3 times to see if anything sticks out to me and make any final adjustments from there.
Final Review. Export. Send off for approval. Upload.
What other effects or tweaking did you use?
I don't really use any other effects, FilmConvert is my go to.