Editors working with footage shot on different cameras are frequently faced with a dilemma: how to achieve seamless color grading across their entire production. The CineMatch camera matching plugin helps users quickly match the sensor information from over 70 cameras and profiles from camera manufacturers including Apple, Panasonic, RED and Sony.
If you are looking to add stock footage to your production, CineMatch will help you find and match the color profile from the camera used to  the rest of the footage, all from your NLE. For those looking to work with premium 8K stock footage, RawFilm has an extensive content library shot on RED that allows for easy color grading and a consistent look with CineMatch.
Let's find out a bit more about the 8K RawFilm collection and why the collection is shot on RED.
A World First
Since 2018 RawFilm has been helping filmmakers enrich their productions as the world's first subscription-based stock footage platform loaded with cinematic quality 8K content shot from the RED Digital Cinema Camera collection.
The footage has been licensed by Fortune 500 companies and some of the largest international brands, alongside independent filmmakers seeking to augment their projects and social media producers looking to level up their content.
RawFilm Storytelling Collections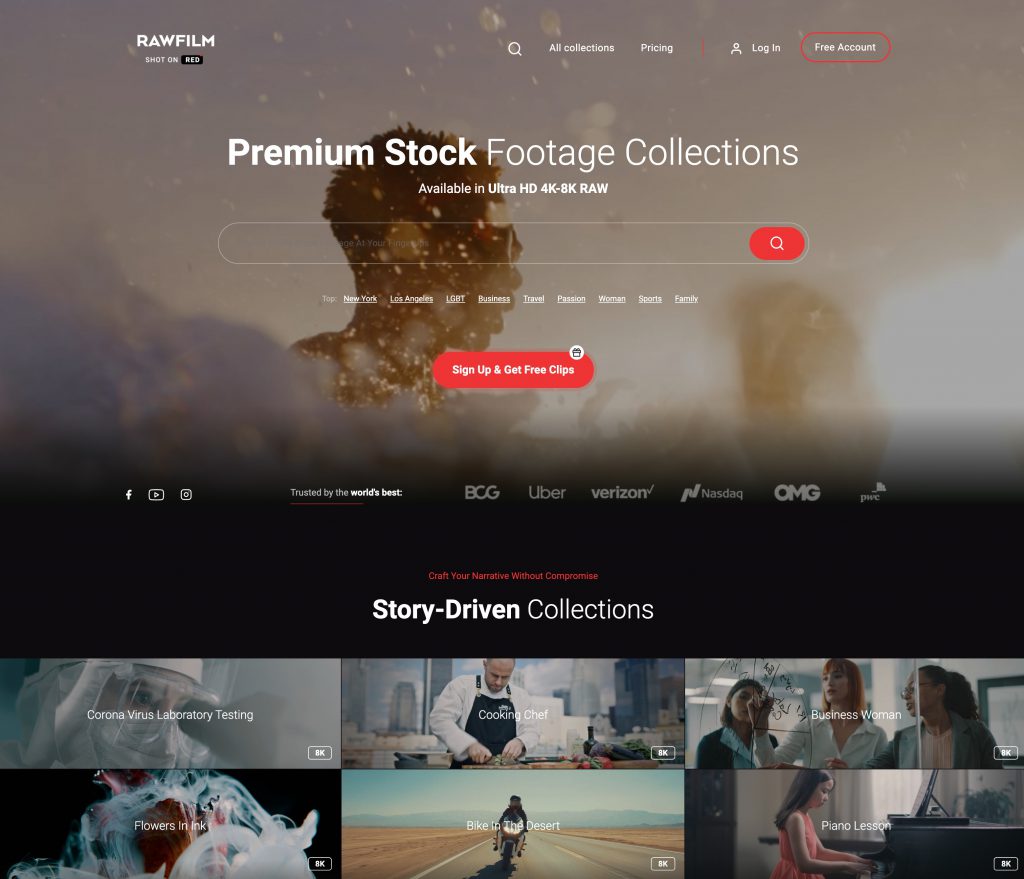 RawFilm was born with a single mission; to provide filmmakers with exceptional cinematic footage that seamlessly blends into their projects. One of the ways this has been achieved is by creating themed, story-driven collections that reach across different narratives and genres in UltraHD 4K-8K resolution.
RawFilm users want to tell amazing stories and they are supported in this goal by an approach to story collections that uses the same planning and production techniques as movies and TV commercials. This approach allows RawFilm users to create the story they want to tell – helped by free UltraHD downloadable collection samples.
Working with 8K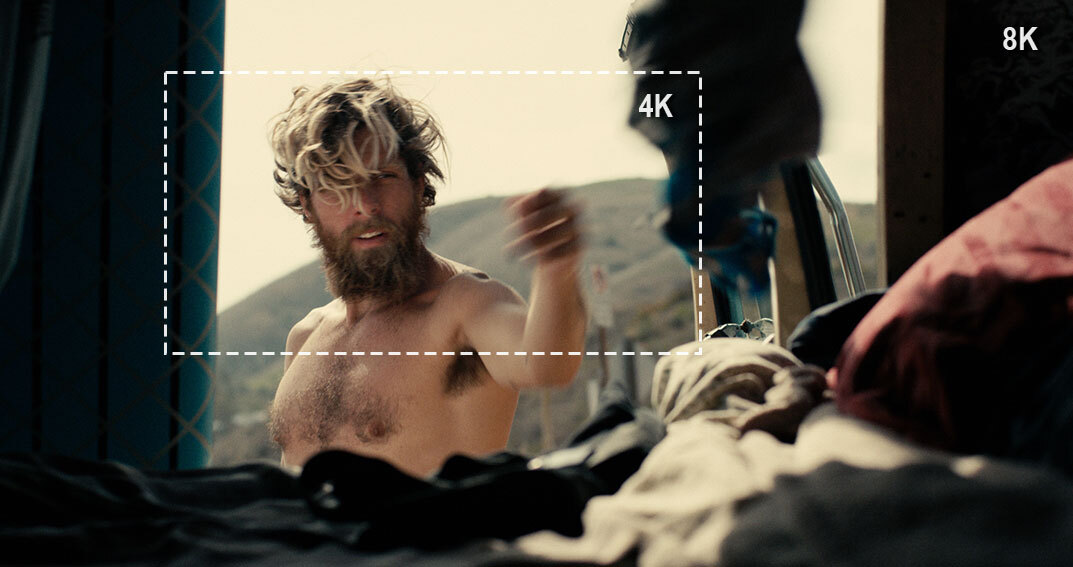 If you have experience working with 8K footage you will be familiar with the detailed lifelike visuals, minimized noise and enhanced color grading available at this resolution. For those working primarily with 4K, the main benefit of working with footage that has been shot at 8K is that the conversion to 4K leads to a significantly higher quality output than from shooting in purely 4K – as illustrated in the above crop shot.
Those working with 8K in post-production appreciate the extra pixels when it comes to editing all those fine details that are captured in the higher resolution shot and retained when downsampling the footage.
RawFilm have worked with creators across the globe to create an 8K footage collection that provides access to multiple camera angles for editors who need to reframe, pan, zoom, crop and resize without compromising on quality. There is even a free 8K collection, featuring amazing time-lapse scenes of London, New York and Washington, D.C. alongside several other free 8K collections.
Shot on RED: Why it matters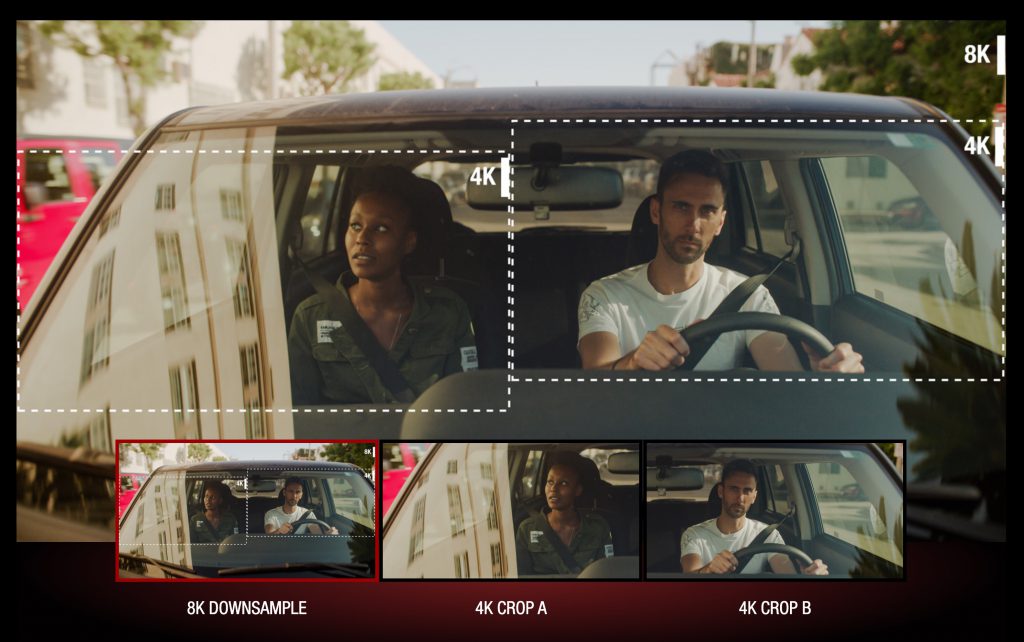 Since making the decision to shoot collections from the RED Digital Cinema Camera range, RawFilm users have access to footage shot on one of the industry-leading 8K camera systems for cinematic shots. From record-breaking franchise releases Black Panther and Captain Marvel, to cultural dramas like Ammonite and The Hate U Give, alongside streaming hits My Octopus Teacher (Netflix), Homecoming (Amazon Prime Video), Greyhound (Apple TV+) and The Falcon and the Winter Soldier (Disney+), many of the biggest releases are shot on RED.
Powered by the RED (R3D) codec, a key benefit of shooting on RED in 8K is access to the pioneering lossless compression technology that allows for smaller RAW files and excellent data rates.
The below table illustrates the RED HELIUM/MONSTRO recording times in minutes per 1TB mini-mag.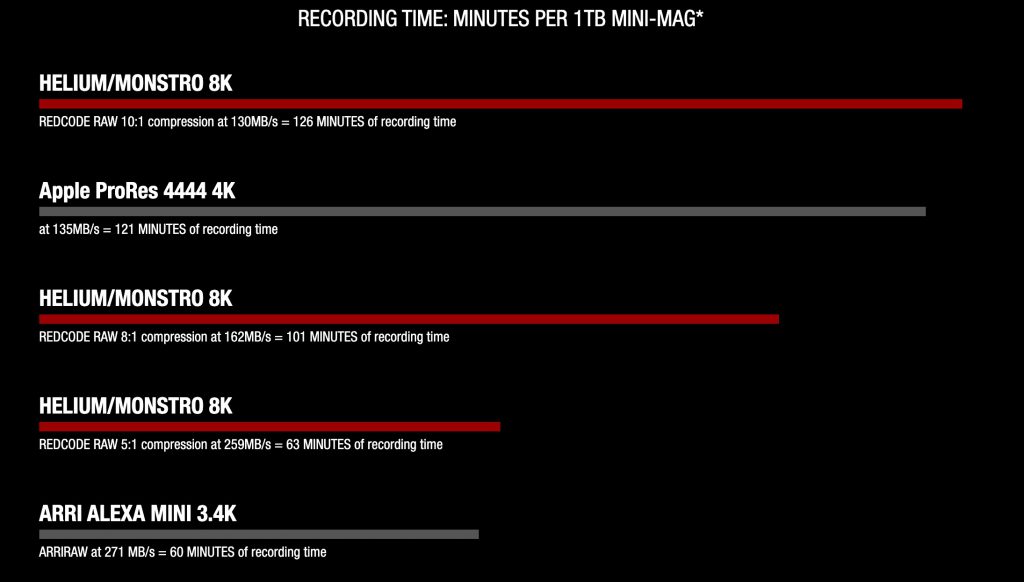 RED cameras are known for their cinematic level quality. By exclusively shooting UltraHD collections on RED, RawFilm have made it easy for filmmakers to access cinema-level quality visuals to aid their narrative.
How RawFilm can help you create your video within your budget
From global brands to independent filmmakers, many image library users work to a specific budget when seeking a partner for their stock footage selection.
In addition to cinematic quality story collections, RawFilm supports filmmakers with a simple licensing process with one royalty-free worldwide perpetual license across all fields of use including TV, film/cinema, YouTube and OTP (Netflix). Everyone knows that production budgets can be tight, and RawFilm has been built with a library of UltraHD 4K-8K footage with affordable pricing for individual clips and subscription plans that allow unused clip allowances to roll over to the next month.
To see how you can create a cinematic story-driven narrative with stock footage, this is an example of a commercial produced entirely from footage from the RawFilm collections.
If you would like to find out more you can sign up to the RawFilm newsletter and receive a 15% discount on stock footage subscriptions.