Puppets! Miniatures! Explosions! FilmConvert's integral role in creating three new episodes of the 1960s British sci-fi series 'Thunderbirds' to celebrate its 50th anniversary.
Visit www.century21films.co.uk for more details on the series!
Interview: Justin T. Lee — VFX & Post-Production, Puppetry Supervision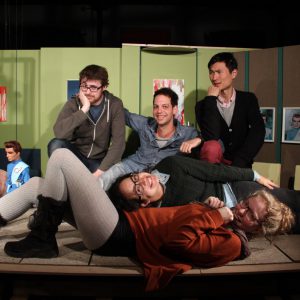 I work as a Flame artist for TV commercials, mostly doing VFX / finishing and running client sessions … and I also work as a puppeteer. Bit of a strange combination, but it sure came in handy for this project! Like me, many of the crew on these special 'Thunderbirds' episodes came to filmmaking because we'd watched and loved the original show as kids. We totally bought into these puppets as real characters, worried when they were in peril, and were thrilled at seeing the Thunderbird craft swooping in to save the day with this larger-than-life music. It's totally over-the-top … and it's magic.
How did these new "classic" episodes come about?
Back in the 1960s, there was all sorts of merchandising for 'Thunderbirds', including mini-album vinyl records. While most of these discs were just audio from the TV series with added narration, three of them were specially made, audio-only stories featuring the voice cast that were never filmed as proper episodes. So fifty years after these recordings were made, Stephen La Rivière (producer, director), Andrew T. Smith (associate producer) and I thought it'd be a good idea to let people finally *see* them. ITV, who own the rights to 'Thunderbirds', had been very positive about a documentary we'd just released about all the Supermarionation programmes and gave us the go-ahead to produce these episodes. With the help of generous Kickstarter backers, assistance from members of the original 1960s crew, and many helping hands, the episodes were released on limited edition Blu-ray and DVD, and screened at the British Film Institute. As part of ITV's upcoming Thunderbirds Day on 30 September 2017, Vue Cinemas across the UK will be screening one of our episodes alongside two from the new 'Thunderbirds Are Go' series currently on TV.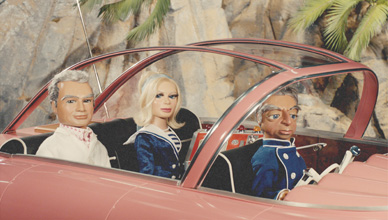 How did you find out about FilmConvert?
I think credit goes to Philip Bloom. I must have been watching one of his camera review videos, saw he was using the software to grade his work and immediately went to research it further. Seeing the love, detail and technical skill you folks at FilmConvert had put into your product sold me on it.
What was the look you were going for, and how did you go about achieving it?
The aim was to make our new stuff genuinely feel like long-lost episodes made during the series' original run in the 1960s, so we did everything we could to get there. We had puppets made from first-generation moulds of the originals and finished as accurately as possible, replica sets measured out with computer models over still frames from the original show, model aircraft and buildings made with the same plastic model kits the original special effects team used … by a great deal of luck and generosity, we even had the same camera dolly used on the original show.
For filming, while some was shot on 35mm (which was a lovely experience), a lot of our puppet stuff was captured with an Arriflex D-21 with their Ultra Prime lenses and recorded in LOG colour space. Since the D-21 is very similar in size and weight to the Arriflex cameras used on the original, this meant that we had the same camera placement limitations (a good thing!) and our dolly moves would 'look right'. Special effects shots (such as flying Thunderbird craft and exploding houses) were filmed on the Arri ALEXA since we needed to film between 72 and 120 frames per second.
Tell us about your FilmConvert workflow.
Aside from adding subtle gate weave to our shots, FilmConvert did all the heavy lifting during finishing on our 'Thunderbirds' episodes. For material shot on both the D-21 and ALEXA, we found the ALEXA camera profile and Kodak VISION 3 5207 stock was the best starting point to match the Eastman 5251 stock used by the '60s team. We'd then use FilmConvert's grading tools to finesse until we had a match we were happy with. Just like on the original show, there were times when our new stuff would cut to reused stock footage of things like vehicle launches — FilmConvert really helped to hide the join! In fact, we were at one point having some of our 35mm material scanned at a film laboratory, and their staff mistook our FilmConvert-graded material for actual film!