Johann Böhmer's film 'From Mestia to Ushguli' won Best Travel Film in the FilmConvert Competition 2019.
Johann Böhmer Interview
Give us a bit of detail about yourself – background, profession, how you got into filmmaking and your current role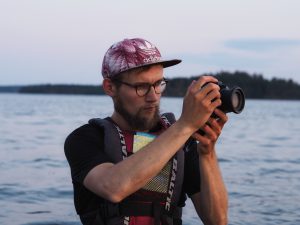 Since my childhood, I have a close relationship with my grandpa, who had been a DP and was later teaching at film school. He was the one who encouraged me to experiment with photography and filming.
While choosing medicine as my professional career, I never stopped working creatively.
Filming became more and more important to me, because I enjoyed telling stories in many dimensions (frame, movement, color, sound, etc).
Tell us about your film – how did it come about?
I really love traveling in combination with outdoor sports. Filming gives me the opportunity to share my experiences with my friends at home and to inspire them to go outside themselves. When I started out I just used my smartphone for it, but when planning my trip to the Caucasus mountains in Georgia, I upgraded to a Lumix mirrorless camera for more options in terms of settings, focal length, and image quality.
Because we planned to travel from Germany to Georgia by train and ferry instead of flying, I thought it might be worth it to cover the whole journey in a documentary style.
After finishing the documentary, I wanted to make a film that was just focused on the atmosphere and landscape of the region of Svaneti, which impressed me the most. Here I put a lot of emphasis on music selection and coloring to convey the feelings I had on the trail.
How did you find out about FilmConvert?
Being a self-taught filmmaker I learned most by analyzing techniques from others. Nowadays, there is a lot of high-quality content on the internet to learn from. One of the filmmakers I'm following used FilmConvert in his projects so I decided to give it a try.
What was the particular look or style you were going for with your video?
The most impressive colors of the Caucasus are the different shades of green, brown and yellow. I wanted to tweak this color scheme a bit to support the warm and welcoming attitude of the people living there. FilmConvert is the perfect tool to get a subtle character into the image without detaching it from reality too much.
Tell us about your workflow. What settings, film stock, camera profiles and tweaks did you use in FilmConvert?
I always choose the accurate camera profile and then take some representative shots from my footage to see how the film stocks work on them. When I've decided which stock to choose, I normally start by reducing the film curve and grain to about 50-70 percent. If needed, I correct temperature and boost the saturation slightly. While checking the scopes, I tweak shadows, midtones and highlights without losing too much on either end of the scale.
What else are you working on? Do you have any upcoming projects?
I just finished a short travel film about a canoe trip in Sweden, which is also available on my YouTube channel.
My next project will be about a backcountry ski tour across snowy Lapland, a region in the very north of Sweden, which I'll be going on in March next year with friends of mine.