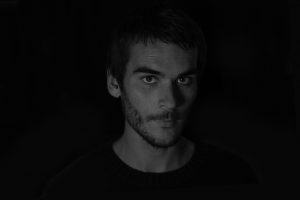 I was born in the Northern Rivers of NSW, Australia. My fascination with film began at an early age; editing and shooting video since I was 12. A young computer geek fixated on editing film I'd pull from dial-up internet, which led to buying my first hi8 Handycam. I began my career working in fast food chains and living on the dole around the Central Coast. I got schooled, got lost, and studied a Bachelor of Film at SAE Media College in Byron Bay.
I like to think I inject a sense of feeling into my films by communicating my ideas through aesthetically pleasing and deeply emotive visuals. I find myself observing a lot, and for me, observation without judgment is true feeling – this is what I want to get across through my visuals – a feeling of truth. I prefer minimal direction with the subject. If I can be with what's happening around me in this state of mind and film with feeling, I believe that can create another kind of connection to the audience.  My bond with nature and the sea are a huge catalyst for my style of cinematography.
Tell us about your film – how did it come about?
I'd been wanting to put my energy into a short film for a year or so, and focus on making something close to my heart with an abstract feel.
I caught up with my friend and photographer Trent Mitchell and we got talking about what we wanted to pursue and create. Trent spoke of an idea he had to shoot – an underwater photographic series based on a "bodysurfer's interaction with the power of the sea from an immersive perspective below."
Trent began taking photos of me riding waves underwater (see pictures attached. I've shaved my face since haha) and was coming up with some pretty unique shots. It made sense to make a film on Trent and his creative pursuit on this endeavour. I've always looked up to Trent as my favourite photographer, so it was exciting to work on a film of him.
We'd get together whenever the waves were clean and the ocean was clear. If we had time, and there were no waves, we would be up at 3am chasing light, fog, moonrises, whatever we could that sparked inspiration for Trent's photographic pursuits and the film itself.
Why did you decide to use FilmConvert for this particular project?
FilmConvert usually does everything I need. As long as you're making tweaks and adjustments specifically for the intended clips you can come up with pretty unique results.
What was the particular look or style you were going for with your video?
I definitely love a moody feel to a film, something that sucks the viewer in and leaves them with a nostalgic feel. I wanted to create sequences throughout the film that matched and flowed by using particular grades that blended the clips together. And using extra/little grain on particular clips to help blend particular images together and give a little more life to the shot.
Tell us about your workflow. What settings, film stock, camera profiles and tweaks did you use in FilmConvert?
I shot 'Black Moon' with a Sony a7s II and a7 III on Slog2 profile. In FilmConvert I used the Slog-2 S-Gamut Profile and converted between KD 5207 Vis3 and KD P400 Ptra and make tweaks from there. I like the idea of bringing more life into particular shots by using film grain. I feel it can make an image come alive and help blend scenes together with its constant movement.
What other effects or tweaking did you use?
I wanted to make the film quite moody so I used film colour at 100% to give a more dramatic/contrasty feel. I would usually bring the Film Colour down to roughly 50% as I feel it keeps a nice soft feel to the image with minor tweaking for a film look.