Anthony Lassus – Interview
Give us a bit of detail about yourself – background, profession, how you got into filmmaking and your current role.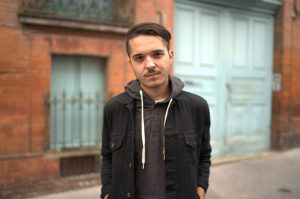 I'm a 23-year-old self-taught man working in the industry for 5 years. I usually do compositing and motion design for advertising in my everyday job. It's a good way to work with talented directors and famous brands like Adidas or Hermes.
I started video making at 13 years old with some friends, it's a passion that stayed with me to this day. I first started working with some artists voluntarily and bit by bit I had the chance to meet the right people at the right place that put their trust in me. Now it's my full-time job but sometimes I have to get out of those black post production rooms. Working with people and projects that I have trust in is my way to give me a sense of fulfillment.
Tell us about your film – how did it come about?
I also work with an underground music company called Les acteurs de l'ombre productions. Four of our bands were hitting the stage at the Hellfest open air this year. It's one of the biggest and prestigious festivals in the metal industry in Europe with 150,000 people every year. It was a big opportunity to work with those bands on stage and behind the scenes.
This short film directly represents my perception of the metal industry and how it feels like to be part of a band. It's an intimate conversation with the songwriter of Déluge that give us an unexpected human feel.
How did you find out about FilmConvert?
A director I work with use Filmconvert to match a lot of different camera sources. I had to try this out with my own setup!
Why did you decide to use FilmConvert for this particular project?
When it comes to being in a post-production room you always have to work with new tools and be versatile. I usually work with LUTS but I think it's just the beginning of a good workflow. If you want a good look for your production you have to go into details for every shot and that's where Filmconvert comes in. It gave me all the tools I needed to color grade my film without using a lot of nodes or adjustment layers.
What was the particular look or style you were going for with your video?
I was working alone on this production with my personal gear which is basically a Sony a7s, two lenses, and a gimbal. I wanted a modern film look and film convert gave me gorgeous skin tones and a 35mm grain in just a few clicks.
Tell us about your workflow. What settings, film stock, camera profiles and tweaks did you use in FilmConvert?
I recorded all day shots in slog2 and night shots with my personal PP4 settings because slog2 creates a digital noise in the low lights that I really don't want. I want my shots to be as clean as possible when I'm shooting and I add this analog feel in post production.
I first set a generic LUT on my shots that bring back the gamma and contrasts on my footages. Then I match the settings of my picture profile of the Sony a7s to FilmConvert.
Film settings:
KD 5207 Vis3
35mm Full Frame
Film color 50%
Curve 25%
Grain 70%
And I add an additional color correction, it depends on the shot.
What other effects or tweaking did you use?
I added some sharpness on the video and for some shots, I had to clean and replace elements that were out of focus. There are no other effects but there is some VFX that no one will notice. Indeed, small details can make a big difference.