"Adam Harper is an average man. And on an average day, he suddenly finds himself catapulted into the strangest, reality changing game… A game of time and chance, where the stakes are a matter of life and death."
Emma Dark interview
Give us a bit of detail about yourself – background, profession, how you got into filmmaking and your current role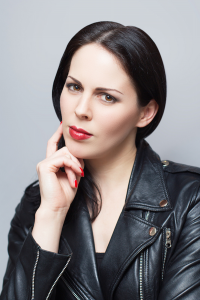 I started making short films in late 2014, although I had made a few corporate videos and other bits and pieces before then. Up until that point, my main focus had been front of camera – modeling and acting. Following on from the success of my last short film "Seize the Night" (2015) I've signed as a Film and TV guest at genre conventions all over the UK, as well as having many other doors open for me.
I currently write the monthly 'Ask the Filmmaker' column for Digital FilmMaker Magazine, and am an honorary patron of the arts for the Misty Moon Film Society. I have various front-of-camera roles coming up and other behind-the-camera film projects of my own.
Tell us about your film – how did it come about?
SALIENT MINUS TEN is my new short film, and it's a dark, cerebral Sci-Fi. It's very different in many ways to my last film 'Seize the Night' – which was more of an Action/Horror with a reasonable amount of drama/dialogue.
It sounds a little cliche but the basis of the plot for SALIENT MINUS TEN came from a dream. I really wanted to make a new film after working for so long on my previous project, so from my core idea I wrote my script, assembled a core cast and crew, and started a crowdfunding campaign.
How did you find out about FilmConvert?
I found out about FilmConvert via Philip Bloom's work, and his advocacy for the tool. This was some time before I'd actually met Philip, who then went on to become Director of Photography for my film.
Why did you decide to use FilmConvert for this particular project?
When we shot SALIENT MINUS TEN Philip actually had FilmConvert 3D LUTs loaded onto his Small HD 702 monitor, which we were using as a director's monitor for me. This was a great help in immediately getting a ball park visual on what the footage could look like once graded.
What was the particular look or style you were going for with your video?
I particularly wanted the film to have a 60's/70's vintage film look. I did a great deal of research and there are all manner of looks associated with that era, which vary wildly, not just by the film stock used, but by the quality of various transfers and subsequent restorations. I tried a variety of film stocks and available film scan LUTS on the market to identify a potential 'look' that would work across the entire film, and ultimately FilmConvert gave me the most flexibility in achieving that look.
Tell us about your workflow. What settings, film stock, camera profiles and tweaks did you use in FilmConvert?
The first step in my grading process was to match and colour correct shots across each scene using Premiere Pro's Lumetri Color panel and Color workspace scopes. Any required adjustments and/or masks were applied to each clip. I then created an adjustment layer and applied FilmConvert. Here I addressed any additional colour balancing on a scene by scene basis, and used KD 5213 Vis3 film stock, with 35mm (Full Frame) grain set at around 30% for most scenes.
Cameras:
Sony A7s mk2
Sony A7r mk2
Camera Profiles:
Sony A7r mk2, Cine1 Pro (which I used across the entire film as I found the skin colour management to be better, although it's a matter of taste really, especially with a vintage look)
What other effects or tweaking did you use?
At this point, although many of the locations and props gave the film a suitably retro feel, and I was happy I'd adjusted the colour to a point that suited the film, I felt that it may need additional work to give it a look more typically associated with vintage film. I consulted Philip and he suggested moving towards a matte look with a subtle green tint. I achieved this by adding an additional adjustment layer with another Lumetri Color panel and then modifying the film's black levels, shadow levels, and tint.