When we take a visual data and we force it until it becomes visionary power, this is a strong act of will. Our eye becomes thought that expresses itself through the image. Making a film means externalize this creative process, which previously was invisible.

We must wash our eyes and learn again how to look at the world around us.

The way we look at the world. The eye through the camera: we always tell something about us when we tell someone else's story.
Give us a bit of detail about yourself – background, profession, how you got into filmmaking and your current role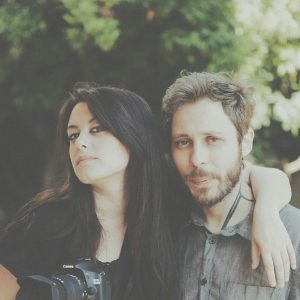 We are Luigia and Giuseppe (wife and husband) owners and founders of evergreen film. We are filmmakers based in Italy but we travel the world documenting the most beautiful stories of love. We founded evergreen in 2010 conscious of being able to make a concrete contribution to the Italian wedding videography that was frozen in the 90's without making any progress. Our paths crossed despite coming from different studies: Giuseppe graduated in Art, I have studied communication and performing Arts.
We feel very inspired by authors such as Stan Brakhage, Jonas Mekas, Mary Menken and Bruce Conner (and other authors of underground American cinema). Over the years of our studies of art films these filmmakers made us fall in love with the cinema.
In the first two years of business our approach to wedding video was very technical, we played with various tools that belong to the language of cinema as sliders, jib, tripod, gopro, timelapse, etc. But later, all this stuff, became for us a barrier to developing a personal and authorial style. We lived a moment of crisis, that was not the way we wanted to walk.
Today, our approach to the video is very simple, personal, emotional and poetic. We believe that to tell of thoughts, memories or emotions we need a more intimate approach with the subject. We think it's necessary to reclaim the concept of "amateurs" (French word that means "the one who loves") and look at the world with simple eyes. We have to show the pureness of things as would a father who is filming their child seeing for the first time the sea. We must love, dream, imagine, discover the stories that are hidden in the surface of things. This is what we believe in.
Tell us about your film – how did it come about?
"La foret de la momoire" is the video portrait of Jess and Luke, a couple based in New York who asked us to document their wedding in Normandie past August. We spent five days with them and their families in the Old Chateau Le Mont Epinguet (Normandie – France). Making this video has become a deeper experience for us; sharing a week with Jess and Luke families made us become part of their memories. We were no longer there to document the wedding event, but to tell something more intimate of their lives.
Why did you decide to use FilmConvert for this particular project?
We have been looking for a software that would confer a material consistency to digital images, that would make the images more similar to film. This process,  without the use of FilmConvert, was long and not always satisfactory. We use FilmConvert in each of our video. FilmConvert provide to us new creative perspective.
What was the particular look or style you were going for with your video?
The process of Color grading is not just making the video more attractive, but it also mean give to it an expressive meaning. The color grading is the precise plan of our will to express a particular feeling. We have tried to give back the feeling of a video connected to the memory through the sense of film emulsion. We want to give the impression that the film is alive and it has its own organic texture. Showing a warm, material and light-flooded image, we want to communicate accurate information, we lead the viewer in a precise psychological condition.
What settings, film stock, camera profiles and tweaks did you use in FilmConvert?
Shooting Camera 5D MKIII / Cinetech profile
Camera profile: Sony/ EX1-EX3/ Cine3
Film Setting: FJ 8543 VD
Grain: 35mm full frame 33%
What other effects or tweaking did you use?
We often use the "lens-whacking" technique while shooting and old vintage manual lenses. We really love when the light becomes the subject of our images.