Sportek Commercial – Pedro Gama
Give us a bit of detail about yourself – background, profession, how you got into filmmaking and your current role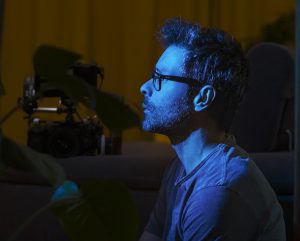 My name is Pedro Gama. I was born in Lisbon – Portugal, lived a few years in Arganil and now I live in Porto where I work as a Visual Designer for more than 12 years. Six year ago I also started to study Arts and Multimedia at ISMAI in Porto and from there came the passion for video as an artistic expression and communication support.
I performed and produced some documentaries in an academic context and was nominated for some national and international festivals like "Prémios Sophia Estudante 2018", "Caminhos do Cinema Português 2019", "Cinenova", "FEST – New Directors New Films Festival", among others. I didn't win any of them, I got the urge to do more, and here I am.
Doing stuff. On the way, looking to be a better director and DOP. In this journey I created a collective, a cooperative as it is called in Portugal, Escama films. The project is still in its embryonic state, however, its purpose is to mix talented aspirants and more professional Filmmakers together, making video in a professional context, so that everyone who is part of the collective gains experience and some money. Everything is transparent, everyone knows what's on the table and everyone shares information.
In addition to this project, I created my Youtube channel Pedro Gama Filmmaker, where I intend to show a little of my path and put up some passionate projects, such as anthropological documentaries, where I will try to freeze pieces of time, of the reality that could be lost, without registration, which is what I intend to contradict. In the studio context, I have been working on some more commercial video projects.
Tell us about your film – how did it come about?
This movie came up as a challenge. A brand, Sportek, whose mission is to elevate the Surf as well as sport through technology and infrastructure, contacted me to direct and be DOP in an advertising film. Together with Miguel Tavares, who was already part of the project, we spoke with Eric Rebiere, former European Surfing Champion and giant wave surfer, we  made a moodboard and a guiding script.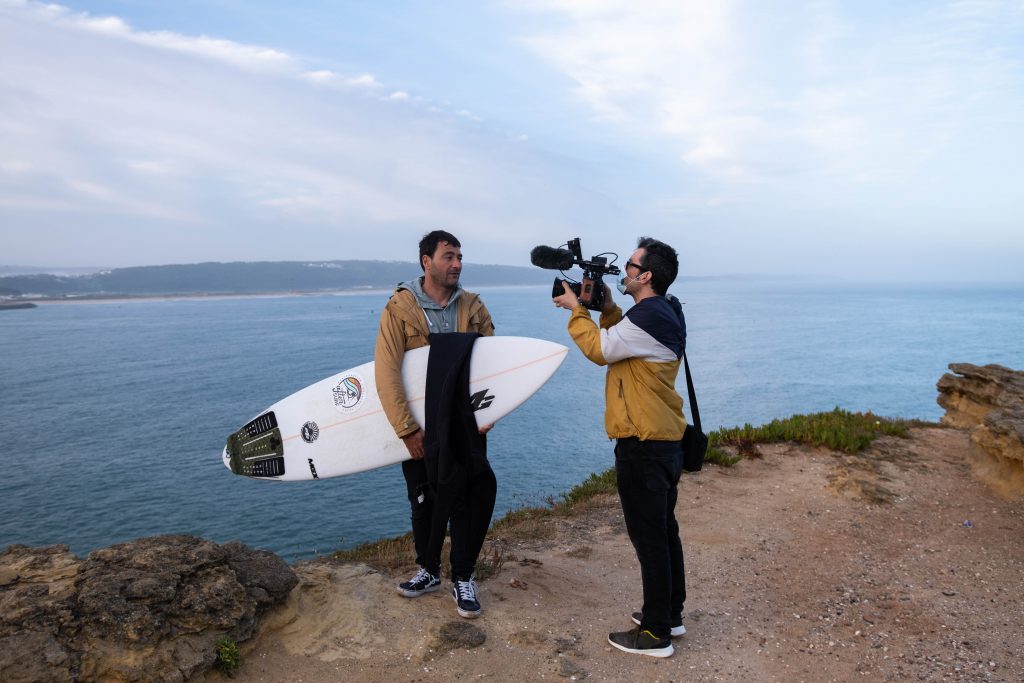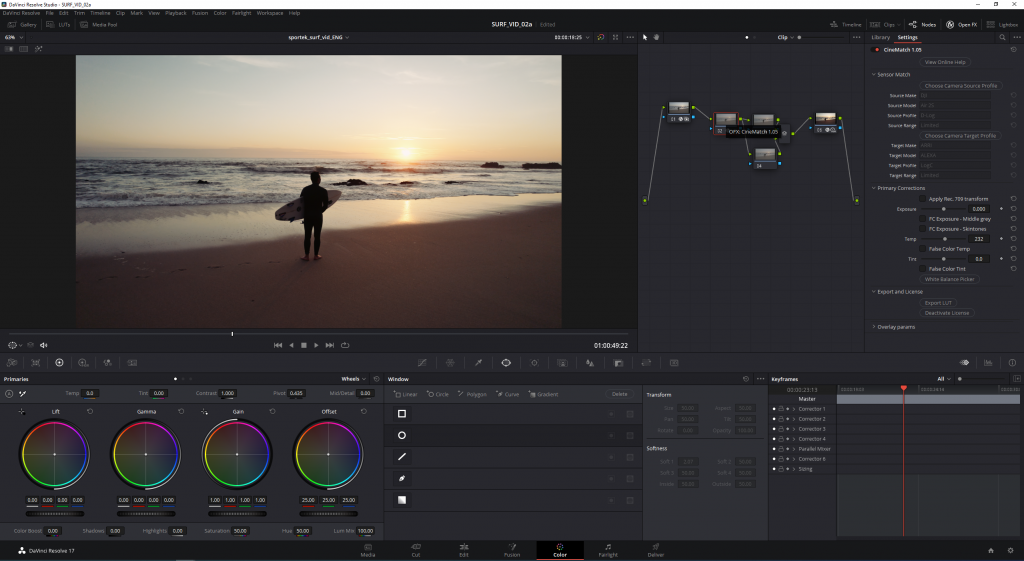 After some conversations, Miguel and I left Porto and traveled to Nazaré – Portugal, Eric Rebiere came from Spain to meet us there. The commercial has to transmit the waiting, the path, time and other concepts that were placed as intertitles so that, in the end, the solution emerges: Sportek.io. Along the way there were some adventures, as there were supposed to be two days of recording and in the end we only had about 8 hours! Eric had a setback and only managed to stay one day in Nazaré.
How did you find out about FilmConvert?
I know FilmConvert since the previous version. I used it in some college projects and in 2018, I recorded a video launching a car sales website. At the time I used the Lumix G80, an entry level machine, and used FilmConvert. The result was amazing. That's when my passion started.
Why did you decide to use FilmConvert for this particular project?
This project had some ups and downs. From reducing recording time to one day to editing that was done in 4 days. This reduced time frame happened because the commercial was used to launch the brand. With the time so short and logistics apart, which was done by Miguel, everything in this project was done by me. Well, since I'm not a colorist and have no budget to hire a good one, the solution was to use FilmConvert and CineMatch . In addition to this, FilmConvert and its many options for analog film profiles have helped to make the video more human, less digital.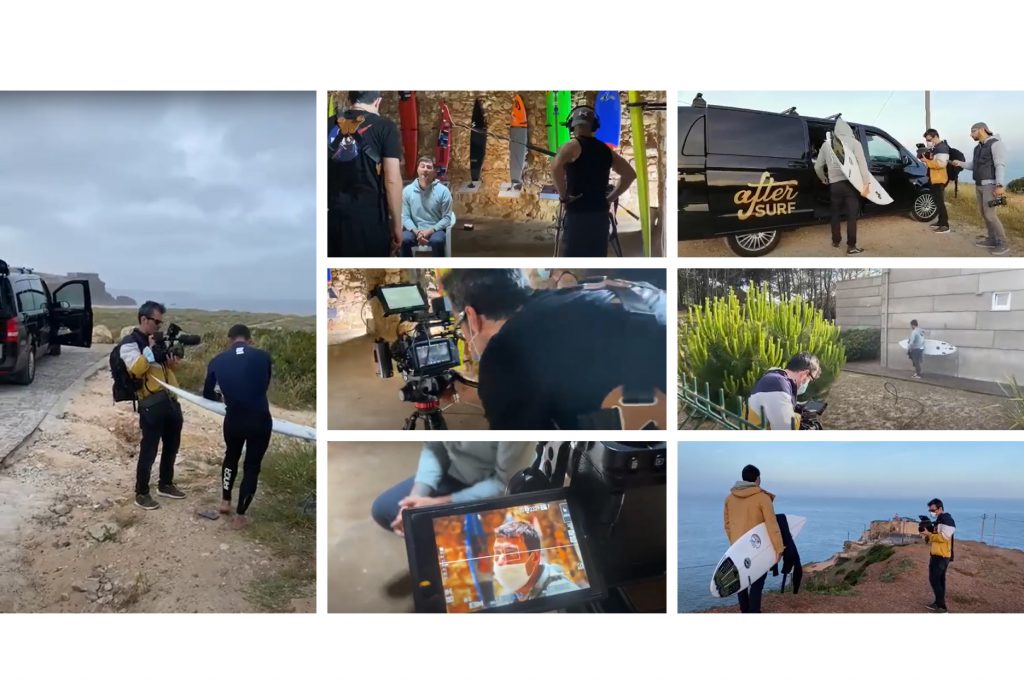 What was the particular look or style you were going for with your film?
The aesthetics I try to put in my projects end up being always different. However, I like having ARRI colors as a base, but I shot with Blackmagic Pocket Cinema Camera 4K (BMPCC4K), Fuji XT-4, Dji Air 2s and GoPro Hero9. There is no ARRI here and the way to get around this for all these machines is to have flat profiles despite different sensors and "color sciences", here CineMatch was very important to standardize the colors and create the base profile.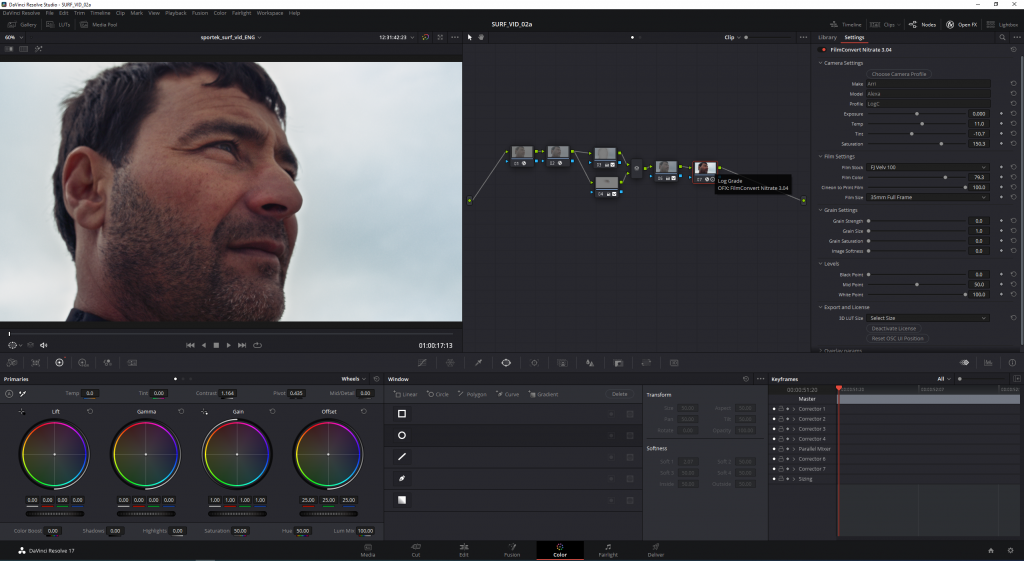 Tell us about your workflow. What settings, film stock, camera profiles and tweaks did you use in FilmConvert?
In DaVinci Resolve Studio 17 in CineMatch I define as "Camera Source Profile" the information related to the machine I use and in "Camera target Profile" I set ARRI ALEXA as Target Profile, LogC. I tweak a few things in "Primary Corrections" and it's done.
Between this Node and the last one, where I put FilmConvert, I make some adjustments. On the last Node I define FilmConvert Nitrate with the "Choose Camera Profile"… Guess what? There it is: ARRI Alexa LogC.
In this commercial I used "Film Stock Fj Velv 100" with "Film Color" between 70% and 80%. Some tweaks in "Levels" and it was done.
What other effects or tweaking did you use?
I usually add some "Noise", "Super 35" or "35 Full frame" despite not having used it in this project. I used some "Film Burn" transitions and applied Davinci Resolve's native "Digital Glitch" transition in the intertitles. I didn't use artificial light, all light is natural.
I also take this opportunity to show you in more detail the material I used in this commercial:
Cameras:
Blackmagic Pocket Cinema Camera 4K (BMPCC4K)
Fuji XT-4
GoPro Hero9
Drone:
Lenses:
Sigma art 18-35mm f/1.8
Sigma art 50-100mm f/1.8
Adapters:
Fringer AF-FX Pro II
VILTROX EF-M2 II 0.71X
Filters:
Variable NDs – Tyfoto
Hoya IR
Sound:
Tascam DR-40
Sennheiser MKE 600
Deity V-Mic D4 DUO
Thanks for watching my commercial and here's the Instagram of everyone involved.
Thank you all:
Pedro Gama @gama_another_filmmaker
Miguel Tavares @miguel_filmmaker
Escama Films @escamafilms
Eric Rebiere @ericrebiere
Roberto @_robertodasilva__